Wellness and Preventative Health
Just like people, its recommended for pets to have yearly examinations.  This opportunity allows pet owners and veterinarians to communicate concerns to ensure proper health for your pets.  At Riverview Veterinary Clinic we offer a full array of vaccinations that we will customize to your pets activity and lifestyle.  The doctors have selected minimal volume vaccines that not only provide sufficient protection, but have a higher safety margin and reduced adverse reactions.  In addition, Riverview Veterinary Clinic offers heartworm testing that includes detection of various tick borne diseases that are prevalent in our area.  The doctors recommend once yearly testing in combination with year-round heartworm preventative to prevent against heartworm infection and reduce the risk of resistance.
 
Information on vaccinations: Why we vaccinate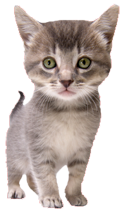 Medical Examinations and Diagnostics
When your pet is ill it is important to select a facility that has the medical capability to properly diagnose and treat each pet individually.  The doctors at Riverview Veterinary Clinic have a combined 12 years experience in veterinary medicine and have a strong interest in diagnostics and internal medicine. Having the capability to perform diagnostics within the clinic offers the doctors the capability to begin treatment quicker and more efficiently.  Riverview Veterinary Clinic offers the following services within the clinic: full digital radiology, ultrasound, urinalysis, fecal analysis, complete blood count and chemistries, 4DX Plus testing, ancillary endocrinology testing.
Dental Health
Dental health is one of the largest overlooked areas in veterinary medicine!  Many systemic diseases including liver disease, cardiac disease, and kidney disease have been associated with an underlying periodontal disease.   Promoting dental health can improve your pets quality of life.  Riverview Veterinary Clinic offers complete dental services including cleaning and prophylaxis, and extractions when necessary.  Dental health includes more than yearly examinations, but routine brushing at home has been shown to dramatically reduce incidence of dental disease.
Types of Pets Seen
Because a large number of veterinarians practice at Riverview Veterinary Clinic, we can care for many types of pets:
Dogs
Cats
Rabbits*
Pocket Pets*
Birds*
*Select veterinarians only. Call us for more information.