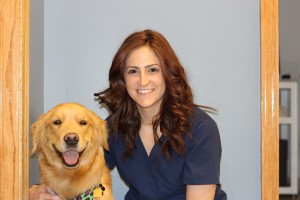 Kalli Marion
Veterinary Assistant
Kalli has been working in the veterinary field for over four years. Currently, she is attending Cedar Valley College for her degree in Applied Sciences. She plans on graduating this spring as a Certified Veterinary Technician. Kalli resides in Bolingbrook with her Golden Retriever Brooklyn.
Riverview Veterinary Clinic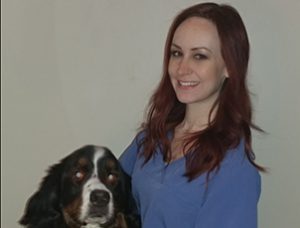 Shari Urbancic, CVT
Certified Veterinary Technician
While growing up, Shari always wanted to be a veterinarian. During her attendance at Western Illinois University, she found that wasn't the path she wanted to take but knew she still wanted to work with animals. She found the Veterinary Medical Technology program in her hometown at Joliet Junior College. Since graduating and becoming certified in 2008, Shari has worked at different hospitals in the Chicagoland area. She has special interests in veterinary dentistry, anesthesia, and pain management. Shari recently became train in epidural analgesia which is now offered for orthopedic patients. She resides in Joliet with her twin daughters, 2 dogs, 2 cats, 2 fish, and rabbit.
Riverview Veterinary Clinic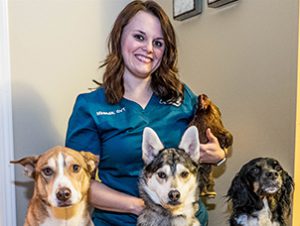 Miranda Kilburg, CVT
Certified Veterinary Technician
Miranda has been in the veterinary profession since 2004. She started off working at Palos Animal Hospital as a Veterinary Assistant/Technician Assistant until she attended Joliet Junior College (JJC) to obtain her Veterinary Technology Degree. Miranda graduated from the Veterinary Technician program in 2013, but it wasn't until later that summer that she took her board exam and became a Certified Veterinary Technician (CVT.) Miranda also has earned a Bachelor's degree in Animal Science from Southern Illinois University-Carbondale.
Miranda worked in emergency medicine at Care Animal Emergency Services for five years. She started as an extern in June 2012, and then after accepting a full time position as a CVT, was promoted to Practice Manager in 2014. It wasn't until she and her husband wanted to start a family that she decided to switch gears and head back to her roots in general medicine, joining Riverview Veterinary Clinic in July 2017.
In her free time, she enjoys spending time with her husband, family, and friends as well as time outdoors, hiking, camping, fishing, and relaxing in her hammock. Even though she doesn't have any children yet, her furry babies include 3 dogs – Vegas a Husky/Coonhound Mix, Quigley a French Brittany Spaniel and Kai a Husky/Aussie Mix, 5 Guinea Pigs, a Leopard Gecko and last but not least, 22 adored chickens! If that wasn't enough to keep her busy, she is hoping to expand their family by two little feet very soon!
Riverview Veterinary Clinic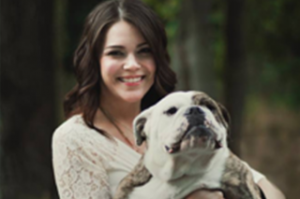 Maryn Evans
Receptionist/Veterinary Assistant
Maryn was a licensed esthetician for 10 years before starting her career at Riverview Veterinary Clinic when they opened in 2013. She loves the ability to combine her customer service experience with her love for animals. She genuinely enjoys interacting with pets and their parents! Maryn has also fostered for local rescues. She has found it difficult to part with some of those fosters, making them permanent members of her family. In her free time, Maryn enjoys spending time with her family and friends. Maryn lives in Joliet with her husband Chad, son Cainan and sweet rescue English Bulldog Jackson Jermaine Tito Evans.
Riverview Veterinary Clinic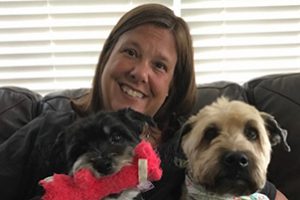 Vanessa Mussatto
Receptionist
Vanessa worked as an administrative coordinator in Chicago for over 20 years. For the past 5 years, she has been a stay-at-home mother and a substitute teachers' aide for the Plainfield School District. She has now decided to pursue her dream job as a receptionist for a veterinary clinic. Vanessa's welcoming personality and devotion to animal care are appreciated by clients and staff at Riverview. She is also a board member for I-Grow-Chicago: a non-for-profit organization focused on helping the Englewood Community of Chicago. Vanessa has been married to her husband Rich since 2000, and they have two daughters (Marissa and Makayla) and two dogs: Oscar a Soft Coated Wheaton Terrier and Lemmy a Havanese.
Riverview Veterinary Clinic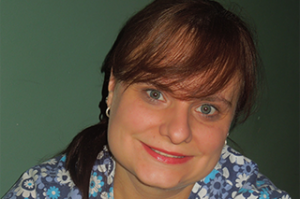 Jessica Folsom
CVT, BS
CVT, Joliet Junior College 2004
BS, Biology, University of St. Francis 2001
Jessica is excited to be a member of the Riverview Veterinary team. Since childhood, she has been interested in animals and has always desired a career in veterinary medicine.
In 2001, Jessica earned her Bachelor of Science degree in Biology from the University of St. Francis in Joliet, IL. In 2002, she was accepted to the Veterinary Medical Technology program at Joliet Junior College, graduating in 2004. Since then, she has expanded her knowledge and polished her skills working with both large and small animals.
Jessica currently lives in nearby Minooka, IL with her husband Mike, daughter Sarah, and son Alex. Their family isn't complete without including their spunky Welsh Corgi Suzume and playful housecat Tommy.
Riverview Veterinary Clinic